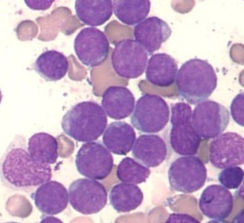 AML Peripheral Blood Plasma (Newly Diagnosed / Untreated)
Acute myeloid leukemia (AML) is the most common acute leukemia in adults. The incidence of AML ranges from 3 to 5 cases per 100, 000 population in the US. AML is characterized by accumulation of under-differentiated cells of myeloid origin in the bone marrow and peripheral blood. Chromosomal translocations, mutations and epigenetic changes have all been shown to contribute to the development of AML by altering the normal differentiation processes.

HumanCells can obtain diseased samples when they become available to our network of clinicians.  Some disease types may have a long backorder depending on the frequency of the disease occurrence in the general population. All samples were obtained from fully consented IRB approved collections / protocol.
---
We Also Recommend