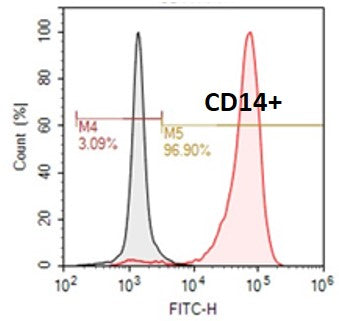 Human Cord Blood CD14+ Monocytes
Monocytes are often referred to as CD14+ monocytes, because of their expression of CD14.  Monocyte can circulate and differentiate into macrophages and myeloid lineage dendritic cells.  Monocytes and their macrophage and dendritic cell progeny are part of innate immune system, serving three main functions in the immune system, namely phagocytosis, antigen presentation, and cytokine production, which influences the process of adaptive immunity.

Our Human Cord Blood CD14+ monocytes are isolated from cord blood mononuclear cells by immunomagnetic selection. All cord blood samples are collected in Citric Phosphate with Dextrose Buffer (CPD) from fully consented IRB approved donors who are tested negative of HIV, HBV and HCV.
Figure 1. Flow cytometric analysis showed A.  >96% of purified cells are CD14 positive.
---
We Also Recommend