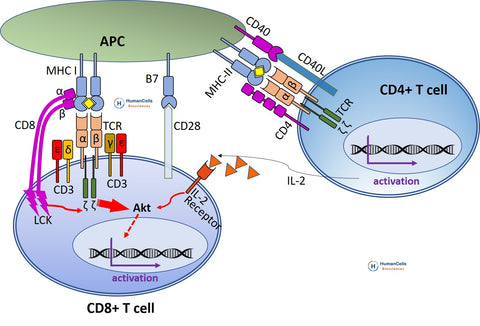 Human Normal Peripheral Blood CD8+ Cytotoxic T Cells
The CD8+ T cells, also known as Cytotoxic T Lymphocytes (CTLs) are an important mediator in adaptive immunity. CD8+ T cells are generated in the thymus and express the T cell receptor (TCR) and CD8 co-receptor. TCRs can recognize a specific antigen, and CD8 binds to the constant portion of the class I MHC molecule. Cytotoxic CD8+ T cells recognize cells presenting foreign antigen fragments, such as cancer cells, infected cells (particularly with viruses), and other damaged cells. When activated, CD8+ T cells kill target cells by releasing of cytokines and cytotoxic granules, as well as by interaction of Fas/FasL. CD8+ T cells have also been implicated in the pathogenesis of medical conditions including hepatitis B virus infection and arthritis.
Our Human Peripheral Blood CD8+ cytotoxic T cells are isolated from peripheral blood mononuclear cells by negative immunomagnetic selection. All peripheral blood is collected in acid-citrate-dextrose formula A (ACDA) by leukapheresis from fully consented IRB approved donors that are tested negative for HIV, HBV and HCV.
Our Product was utilized in:
Driscoll, James, et al. "Vactosertib, a novel TGF-β type I receptor kinase inhibitor, improves T-cell fitness: a single-arm, phase 1b trial in relapsed/refractory multiple myeloma." (2023).

https://doi.org/10.21203/rs.3.rs-3112163/v1
---
We Also Recommend