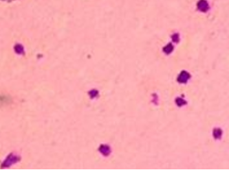 Human Normal Peripheral Blood Platelets
Platelets, also called thrombocytes, are tiny, non-nucleated cells that are derived from megakaryocytes in the bone marrow. Primary function of platelets is to initiate blood clotting upon sensing of blood vessel damage. Platelets have been shown to be an important regulator of inflammation, immunity and wound healing as well. Mediators released by platelets can impact how white blood cells and endothelial cells respond to inflammatory stimuli. Platelets also express molecules like platelet P-selectin that bridge aggregation between platelets and white blood cells including monocytes, lymphocytes and neutrophils, therefore regulate both innate and adaptive immunity. Furthermore, platelets can bind and internalized pathogens as well as release proteins that are toxic to certain bacteria and fungi.

Our Human Normal Peripheral Blood Platelets are collected from healthy donors by apheresis. All peripheral blood is collected in acid-citrate-dextrose formula A (ACDA) by leukapheresis from fully consented IRB approved donors that are tested negative for HIV, HBV and HCV.
Our Product was utilized in:
---
We Also Recommend