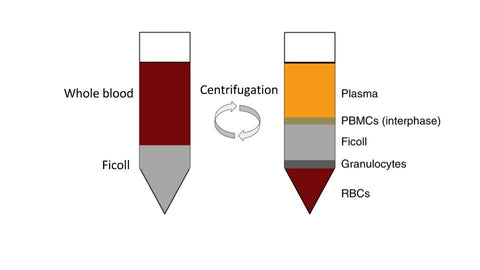 Human Normal Peripheral Blood Mononuclear Cells (PBMC)
Human Peripheral Blood Mononuclear Cells (PBMCs) are blood cells with a single round nucleus. These cells include lymphocytes (T, B and NK cells), monocytes and dendritic cells.  PBMCs are parts of the immune system which are critical to cell-mediated and humoral immunity.
Our Human PBMCs are isolated from normal healthy donor leukopaks collected in acid-citrate-dextrose formula A (ACDA) as an anticoagulant. All donors must be tested negative for HBV, HCV, HIV and Syphilis and are IRB consented.
Peripheral blood mononuclear cells (PBMCs) are purified by a density gradient centrifugation (Ficoll-Paque) and are available in fresh and frozen (cryopreserved) format.  HumanCells' PBMC are isolated from Leuko Pak (Apheresis-derived) which are highly purified, containing a more pure population of mononuclear cells with higher viability when compared to buffy coat derived cells.
Storage Condition
Cryopreserved PBMCs can be stored in Liquid Nitrogen vapor phase for long-term storage.  Storage in liquid phase nitrogen is NOT recommended. Short-term storage of cells (less than 2 weeks) at -80°C is acceptable but should be minimized to ensure maximum stability. Once thawed, samples must be used immediately, and can not be frozen again.
Also available from  
Fisher Catalog No.:  
Our Product was utilized in:
Wu, Kerui, et al. "Engineering an active immunotherapy for personalized cancer treatment and prevention of recurrence." 

Science Advances

 9.17 (2023): eade0625. https://www.science.org/doi/10.1126/sciadv.ade0625
Mao, Chengqiong, et al. "Delivery of an ectonucleotidase inhibitor with ROS-responsive nanoparticles overcomes adenosine-mediated cancer immunosuppression." Science translational medicine 14.648 (2022):DOI:10.1126/scitranslmed.abh1261
---
We Also Recommend